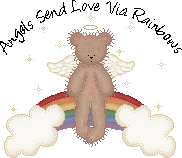 Thursday was a very rough day for me here. My Mom broke the news that she had fallen outside on Wednesday morning while I was at work. So when she finally told me when I got home from work yesterday. I called her doctor which told me to take her to the ER. I really hate going to these places because you sit there forever before they even see you. We were there around 4pm and didn't leave there till almost 8pm last night. They took x-rays and said that she badly bruised her tail bone. At least she didn't break anything. Which is good news! She keeps telling me a little more today about what really happened. She was outside doing something to the sprinkler system and lost balance, she wasn't able to get up by herself. Luckly a neighbor came by and helped her get up. She's got a cell phone in her pocket but for some reason she didn't want to call me. Says she didn't want to worry me. But I'm always worried about her due to all the other health issues that she's got at this time. I asked her to promise to tell me everything that happens from now on. We'll see how that works out. I don't want to take away her independence but I just don't want anything serious to happen to her either.

So much for this week. I'm truly hoping that this weekend is going to be a very nice stress free and quiet time.

That's all for now. Take care everyone!