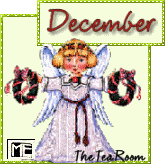 Hi Everyone,

It's been a while since I updated everyone on what's been going on here. Since I told everyone about Angels latest health issues. She's been having a lot more spells. Seems like she's having them at least once a week now. We've been keeping the Vet updated on when she has the spells. He checked her lungs the last time we were there and said everything sounded fine. Mom and I decided that due to Angels health issues that we would take her to Dog Lover's and get our family pictures done. So we got some cute family pictures they were even able to get Angel to pose by herself. Can't wait till I get them. Should have them next week.

Mom has been having a lot more health issues the lately. Since she's been taking the steroids we really thought it was going to help her. I've noticed in the last few weeks that she's worse than when she first went on the steroids. She told me tonight that her skin hurts when she washes. Which doesn't sound good. She's in so much pain all the time and her legs don't feel like they are going to hold her up. We were sitting in a restaurant tonight she started telling me that she was tired of caring anymore. She's tired of hurting and feeling like she can't do anything anymore. I told her that I didn't want her to think like that. She has a doctors appointment in a couple of weeks. So I think it's time for me to step in and tell the doctor just what I think about what's going on right now with Mom. It really hurts me to see her like this. She really wants to do things around the house and go places but it takes all she has to do what she wants. She's finally calmed down tonight so I'll just see what happens when we see the doctor.

I'm doing pretty good other than worrying about Angel and Mom. Work is OK! I was able to finish getting all my Christmas decorations done on Tuesday after work. I'm putting up a few pictures on here.

I'm so glad that tomorrow is Friday. I just wish the weekends would go so much slower!!!!!!!

Well, that's enough rattling on tonight. Hope I didn't bore anyone tonight.

Take care!